07 Sep

5 Tips for Cooking with Kids

Plan Ahead

Children are not known for their patience so be sure to have every tool and ingredient at the ready. Create a clear space with all necessary equipment ready to use that the child(ren) can easily reach. Have the child wear the right attire, old clothes/play clothes or an apron.

Extras for Tasting/Touching

Children love to explore and it is a big part of their learning experience so include a few extras that they can touch and eat in the moment. This is of course ingredients that they can eat uncooked. But extra is usually good because things can be dropped on the floor, etc.

Practice Good Hygiene

This is a great time to teach about germs and basic hygiene. Remember to wash hands in the beginning, after handling each type of raw food, and when completed. Be sure to differentiate using different or cleaned utensils between raw and cooked foods.

Choose Recipes/Tasks at their level

Every child is unique in their interests and skill levels at different ages. Many children's recipes and recipe books will have age guidelines but follow your own instincts as you know your child best. Choose a few tasks for them specifically, such as washing vegetables, mixing with a spoon, measuring, etc. based on their level. As the parent you can fill in the between or prep certain things before they enter. Children love to feel like they are helpful and have a purpose/responsibility and cooking allows them that in a controlled environment.

Have Fun

Cooking is often a fun activity but only if you allow it to be. As a parent have patience and don't expect perfection. Relax and help guide them as they try to learn new skills if you are nervous or allow them to do very little they will lose out on making a good connection with cooking.

In my own family we usually had special nights that children cook, these were nights when time was not an issue. But I remember when I graduated from using a butter knife to cut some basic things, to a real slicing knife. It brought a sense of accomplishment and pride. Every child no matter the attitude, age (physical or mental) look for the same things in life to feel a part of some community. Family is our first community, so don't think of cooking as chore but as a chance for your child to contribute.

Here are 2 recipes we love to create with kids in the kitchen.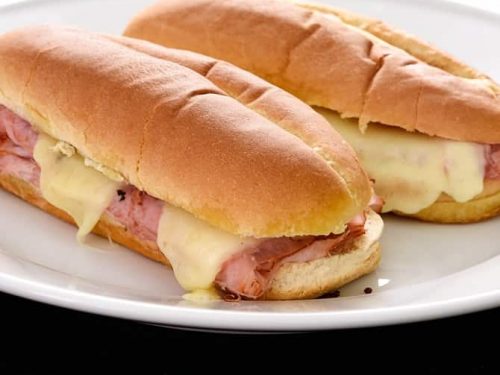 Hot Ham Sandwiches Serves 4
4 Favorite rolls (croissants, homemade, etc.)
4 Thick Ham Slices (pre-cooked ham)
4 Cheese Slices (Cheddar, Swiss, Provolone or family favorite)
Onion Powder, to taste
Garlic Powder, to taste
Butter, to spread
Set out your rolls, ham, and cheese. Depending on the level you can use pre-sliced cheese or let them slice it with a knife or cheese slicer. Same with the ham, you can slice it to preferred size or let them cut it to the size they desire. You could also use cookie cutters to make fun shapes both from the ham and cheese, plus it skips using actual knives.
Turn over roll tops and add a simple coat of butter, then sprinkle with light garlic and onion powders. Stack sandwiches together and layer on a greased cookie sheet.
Bake in oven at 350 for about 15 minutes or until heated completely throughout.
*Feel free to add any other condiments your family love.
Eggs in a Hole with Bacon Serves 1
1 Slice Bread, any variety
1 Egg
Salt & Pepper to Taste
2 Slices Bacon
Grease skillet, and turn to low heat.
Cut a 1 ½ to 2 inch hole from the center, a small cookie cutter can be used also. Lay the bread into the skillet, and lightly toasted about 2 minutes. Then flip and crack egg directly into the created hole. Season with salt and pepper to taste. Continue to cook until the egg is cooked to firm, flip again and cook about 1 minutes more.
On a microwave safe plate, layer 3-4 paper towels. Place 2 slices of bacon across the plate and place in microwave for minutes. Cook longer 1 minute at a time until to desired crispiness level.
Serve immediately.
This is a great recipe for children who are just being introduced to using an actual stove top because the heat element remains on low, and the cooking time is short. If you are cooking for lots of people, you could let the children line the bacon on a cookie sheet and bake in oven rather than microwave to save time.
At Broadbent, we believe that meal time is family time and being a part of the preparation can let children feel like a more contributing member of their family. We encourage you to try a recipe in the kitchen with your children or grandchildren and introduce them to cooking. It is not only fun; it is a basic skill that every individual should know how to do in a basic sense.